Hi,
I'm proud to announce the release of SnipNotes 2.0, the next major version of my popular app for iOS devices and Apple Watch! SnipNotes combines a highly configurable clipboard manager with an intelligent note-taking app: You can quickly save any content from your clipboard, text and images from websites, addresses from Maps and much more. SnipNotes will categorize notes automatically based on their content and provides a set of actions for each type. For example if you store a phone number, you can call it or send a SMS. If you save an address, you can view it in Maps. SnipNotes integrates into notification center on iPhone and iPad, so you can save content and use actions from anywhere and don't need to open the app first.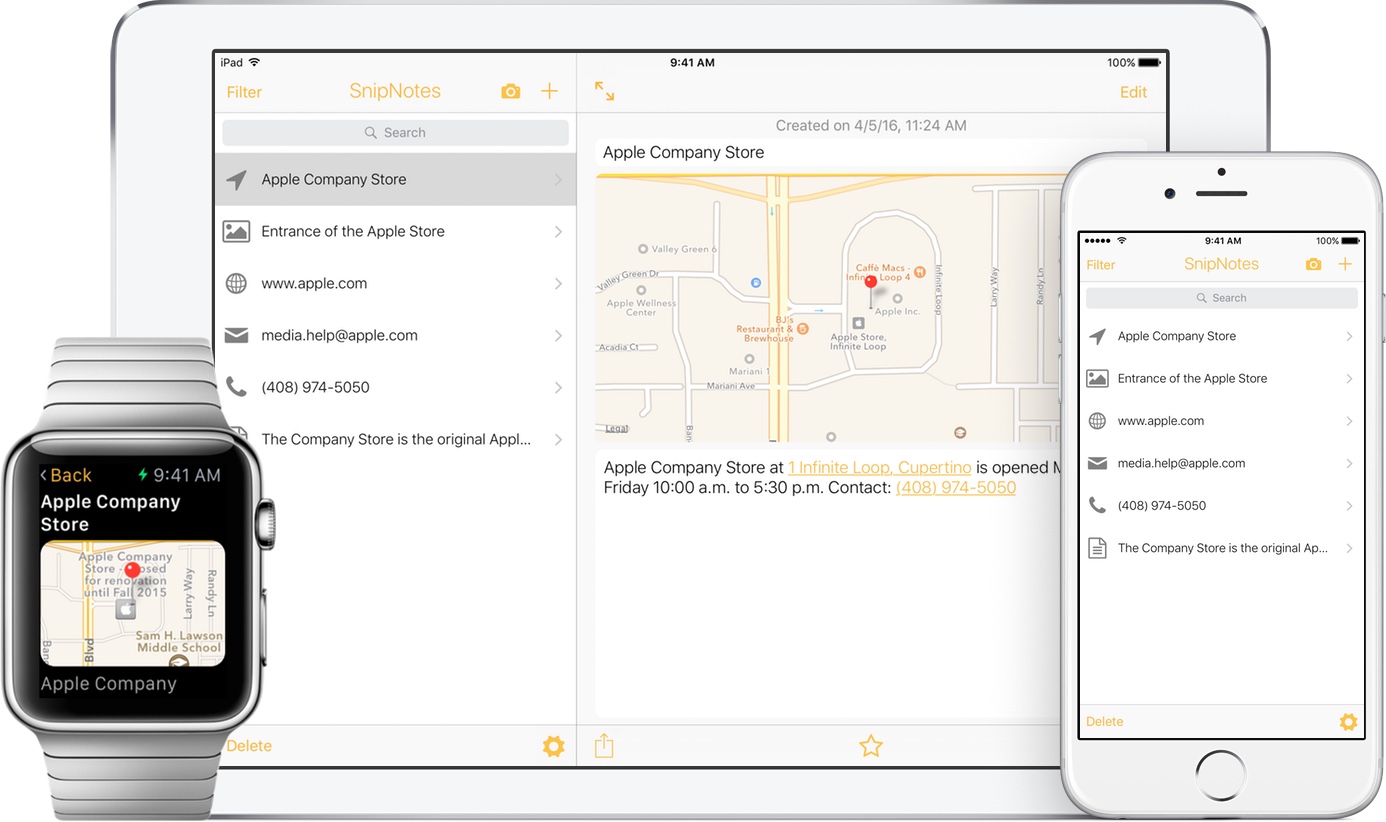 SnipNotes 2.0 offers a new design and over a dozen new features. Some of the highlights include:
• A new design: The colors and icons have been updated to provide a cleaner, less distracting look and feel
• Actions have been dramatically improved: They are now also available in the main app. I've added lots of new actions for popular third-party apps like Chrome, Google Maps and Evernote. You can toggle them on and off in the settings menu.
• SnipNotes now runs natively on Apple Watch, so you can even use it while your iPhone is out of range. Performance has been improved and you can now call phone numbers directly from your watch
• You can filter your notes by type, date or favorite status and even combine multiple filters
• Pull down the list view from the top to reveal the new search bar
• You can protect your notes with a passcode and Touch ID
• There is a new auto-import feature, which saves your clipboard every time you open the app or the notification center widget (configurable)
• Notes will be automatically saved during editing to prevent data loss
SnipNotes is a premium app without any ads or in-app purchases. To celebrate this release, you can get the app for just 99 cents for a short time.
You can download SnipNotes right here: [URL]https://itunes.apple.com/us/app/snipnotes/id967594709[/URL]
More information about the app is available at www.snipnotes.de. There is an overview page, which covers the main aspects of SnipNotes as well as some use cases. I've also created a feature list, which contains each and every functionality SnipNotes has to offer, and a FAQ.
If you have any questions or feedback, please feel free to answer to this thread.